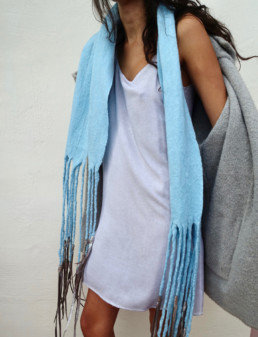 Theo Sky Blue Scarf w/ Silver Leather Tips
We love this soft sky blue color, mildly vibrant. The tips of each deadlock are tipped in silver coated brown leather. The Theo can be wrapped as a belt as well as a scarf or shawl! Made of 100% super fine Merino wool. The scarf is hand felted by the designer in California.
Measurement is aprox 1 foot wide x 4 feet long, dreadlocks length is an additional 1/1.5 feet.
Out of stock
---
SKU 036896-1 Categories men, scarf, women's scarf, mens scarf, merino wool, scarves, blue, brown, multicolored, pattern, thin, belt, unisex Tags Black, unisex, made in the use, handmade, made by women, eco fashion, unique gift, taiana giefer, taiana design, merino wool, wool, felted accessory, dreadlocks, fringe scarf, fringe, organic fashion, wearable art, high fashion, taiana, layering piece, scarf, winter layer, wild fashion, mens fashion, womens fashion, mens scarves, womens scarves, brown, blue, multi-colored
---
Description
Scarf will soften and break in with each wear like a pair of leather shoes.
Hand wash cold water and mild soap / hang dry OR dry clean. Model is 6 feet tall.