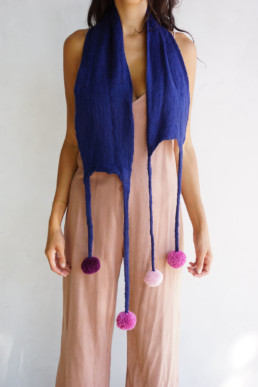 Capi Purple Scarf with Pompoms
A smaller scarf that crosses over as a belt or head wrap. It is a bright purple merino wool somewhere between violet and eggplant, not far from the navy family. The pompoms; 4 shades of pink. We love this color as it pops while remaining rich in color and not to bright. The scarf is hand felted by the designer in California.
Measurement is aprox 6 inches wide x 3.5 feet long, dreadlocks length is an additional 1/1.5 feet.
1 in stock
---
SKU 036899 Categories scarf, women's scarf, mens scarf, merino wool, scarves, pink, thin, necklace, belt, pompoms, purple, head wrap, pop, shades of pink Tags handmade, made by women, taiana giefer, taiana design, merino wool, wool, felted accessory, fringe scarf, organic fashion, wearable art, taiana, winter layer, wild fashion, womens fashion, womens scarves, pompoms, tassels
---
Description
Scarf will soften and break in with each wear like a pair of leather shoes.
Hand wash cold water and mild soap leaving pompoms out of water / hang dry OR dry clean. Model is 6 feet tall.